Microneedling
innovative and simple
Microneedling Treatment
Genuine Dermaroller(TM) , Dermapen or microneedling treatments are both forms of collagen induction therapy.
An innovative and simple procedure that works by stimulating your body's own collagen production after tiny needle holes are made in the skin surface with sterile micro-needles. Your body will start to naturally repair and regenerate the skin, working below the surface in the dermis.
New skin cells are generated & blood supply is enhanced. It will only be a few weeks before visible signs of regeneration are seen & the process will continue over the following months, providing you with a gradual & long lasting smoother, brighter and younger looking skin
With minimal downtime, a course of 3-6 sessions is usually advised 4 weeks apart. More sessions may be required for acne scarring.
Microneedling can be combined with vitamin serums or with PRP (plasma therapy) on the same session, as it increases product absorption through the skin.
Areas Treated
Most useful for:
Acne scarring
Fine lines
Stretch marks
Improving skin tightness
Dark circles
Large pores
FAQ
What should I expect?
Anesthetic cream to help numb the skin, then the skin is treated with the Genuine roller or Dermapen. Some redness is expected which can last for 1-2 days
When will I see the results?
Gradually over 2-5 weeks after treatment.
How long does it last?
Long lasting as its your natural repair processes.
For more info, watch this short clip >
Scarring prior to treatment
Immediately after treatment
Three months after treatment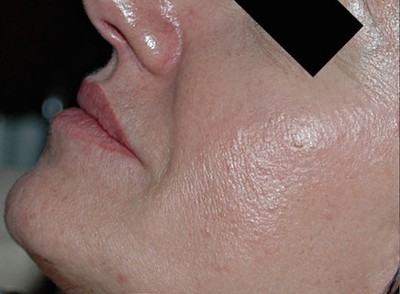 Photos courtesy of Dr Eddin​
Photos courtesy of Dr Eddin​